11-Feb-2022
In an earlier article last August we discussed a few things investors could do to manage their interest rate exposure. The timing was relevant as the 10Y Treasury yield had moved below a level of 1.3% off its then recent peak. It is now trading at 1.93%.
Our playbook in the article was to watch out for low-coupon preferreds and prefer pinned-to-par preferreds as well as those lagging the market and providing an additional margin of safety.
The reasoning for the last two types of securities is obvious, but the first one is less so, particularly for investors new to preferreds and baby bonds. The key point is that credit securities tend to trade in yield terms i.e. very similar securities tend to have similar shifts in yield in response to market conditions. However because credit securities have different coupons, their prices need to move by different amounts in order to generate the same yield moves. Securities with lower coupons need a larger price adjustment and vice-versa.
Let's take a look at how Bank sector preferreds have done since mid-August, before Treasury yields began their latest ascent. We use the Banks sector because it has a large number of decent quality preferreds and it also controls for the credit profile element. The y-axis of the chart shows total return since mid-August and the x-axis shows the coupon of the security.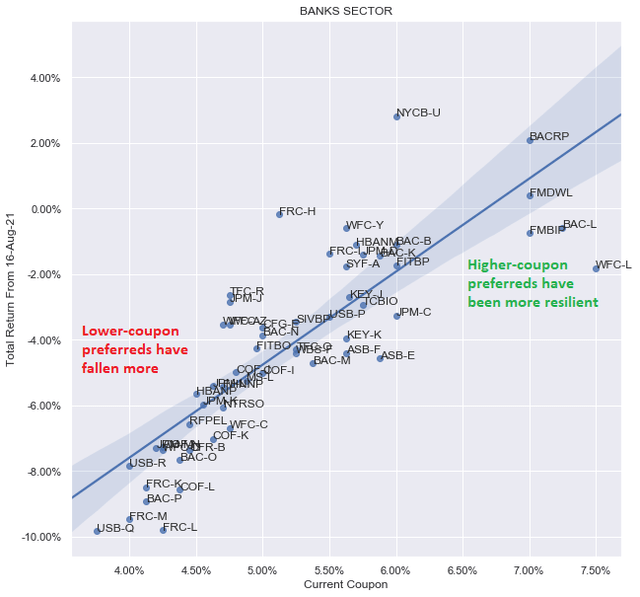 The relationship is not perfect but it's pretty good showing that low-coupon securities have tended to underperform in the recent rise in Treasury yields. This dynamic highlights the fact that investors don't just have to identify which issuers they want to allocate to, but also have to be careful in allocating across the different series of a given issuer.
---
Check out more in-depth and timely commentary as well as Income Portfolios and interactive Investor Tools at our Premium service.
---
ADS Analytics LLC / Systematic Income provides opinions regarding securities and other related topics on an impersonal basis; therefore no consideration is made towards your individual financial circumstances.
All content presented here is not to be regarded as investment advice or constitute a client / advisor relationship. It is for general informational purpose only.
Trading securities involves risk, so you must always use your own best judgment when trading securities. You assume the entire cost and risk of any trading you choose to undertake. You are completely responsible for making any investment decisions.