Our approach to income investing is to allocate across a diverse set of investment structures, including open-end funds, closed-end funds, BDCs, preferred securities and baby bonds. This "structural diversification" ensures that we are not caught out by individual market trends that can hit one structure more than others.
The benefit of this approach can be seen in the very resilient performance of BDCs this year which have taken advantage of the rise in short-term rates as well as general NAV resilience. Year-to-date the BDC sector is flat. This is in contrast to most CEF sectors that are down by 10% or more.
Our own BDC sleeve in the High Income Portfolio has delivered a 10% return this year as the following chart shows.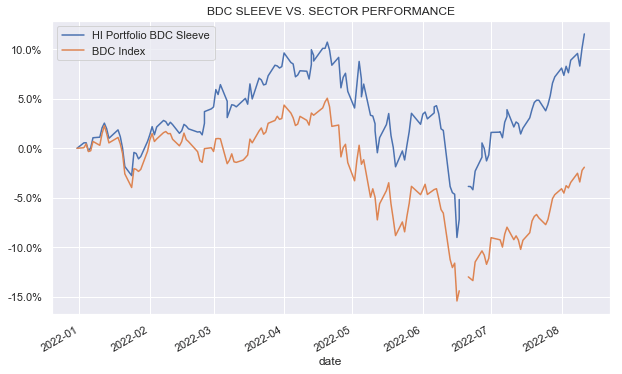 This outperformance is due to three main factors. First, our main overweights were in TCPC (since rotated into other BDCs), FDUS and CGBD all of which had double-digit total returns year-to-date. These companies featured strong and consistent performance while trading at a significant margin of safety valuation.
Two, we added to our BDC exposure during the dip, particularly in TRIN and BXSL, rotating from shorter-maturity assets like BDC and mREIT bonds that held in very well. And three, we made some timely rotations between BDCs as their valuations gyrated widely this year.
Because we were able to add to our BDC holdings through the drawdown the bar to additional buys is fairly high at the moment, particularly at current levels which are well above our entry levels. That said, for investors who find they are still underweight BDCs, we continue to like both BXSL and GBDC due to their below-average valuation and a higher-quality allocation profile. Both stocks are trading at around 8.4% yields and we expect their incomes and dividends to continue to increase this year.
Check out more in-depth and timely commentary as well as Income Portfolios and interactive Investor Tools at our Premium service.
---

---
ADS Analytics LLC / Systematic Income provides opinions regarding securities and other related topics on an impersonal basis; therefore no consideration is made towards your individual financial circumstances.
All content presented here is not to be regarded as investment advice or constitute a client / advisor relationship. It is for general informational purpose only.
Trading securities involves risk, so you must always use your own best judgment when trading securities. You assume the entire cost and risk of any trading you choose to undertake. You are completely responsible for making any investment decisions.