Sharply rising short-term rates remain one of the key themes of the income space. For CEF investors the most direct impact of this development will be via higher leverage costs as most funds source their leverage via floating-rate instruments such as repo or credit facilities.
Some funds hedge their leverage costs. The way this works is through a payer interest rate swap where the fund pays fixed and receives Libor on a particular notional amount for a certain maturity. A screenshot of what it looks like in a shareholder report is below, using the Cohen & Steers Select Preferred and Income Fund (PSF).

Let's see what this means in practice. Libor started the year not far from zero and has risen to around 1.3%. The chart below shows how it is expected to evolve over the coming years. There is clearly more certainty around its path over the next year or so than the period after.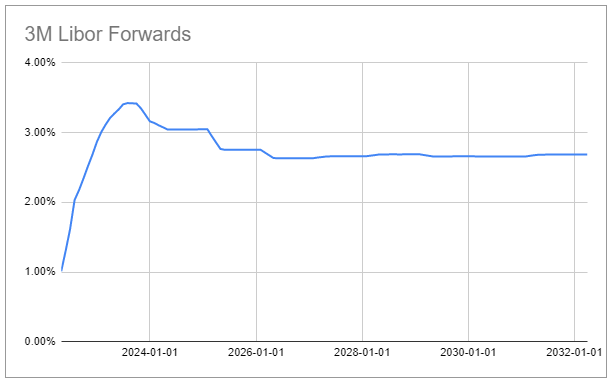 Let's see how this translates into actual fund income. The chart below repeats the same exercise using a portfolio yield of 5.5% which is roughly the level of yield level of the broader preferreds market and leverage of 32%.
We see that the hedging fund will maintain its net income at a much more stable yield level over time than the non-hedging fund as Libor rises.
Of course there are other drivers that have valuation impacts but this dynamic doesn't make a ton of sense to us. The most obvious answer here is that the market is either not really taking full account of this developing situation or, alternatively, it thinks that a recession (and a subsequent collapse in short-term rates) is imminent.
In our view the Cohen funds are fairly attractive here in the preferreds sector such as the Cohen & Steers Tax-Advantaged Preferred Securities and Income Fund (PTA) trading at a 8.1% yield and a 11% discount.
Thanks for reading.
Check out more in-depth and timely commentary as well as Income Portfolios and interactive Investor Tools at our Premium service.

---
ADS Analytics LLC / Systematic Income provides opinions regarding securities and other related topics on an impersonal basis; therefore no consideration is made towards your individual financial circumstances.
All content presented here is not to be regarded as investment advice or constitute a client / advisor relationship. It is for general informational purpose only.
Trading securities involves risk, so you must always use your own best judgment when trading securities. You assume the entire cost and risk of any trading you choose to undertake. You are completely responsible for making any investment decisions.