In this post we provide a brief update for Carlyle Secured Lending (CGBD) – a BDC currently trading at a 11.5% total dividend yield. More in-depth updates are published on our Premium service.
Total investment income rose 8% QoQ to the highest level in the recent while. GAAP net income rose 15% while adjusted net income (which includes the impact of the preferred dividend) rose 17.5%.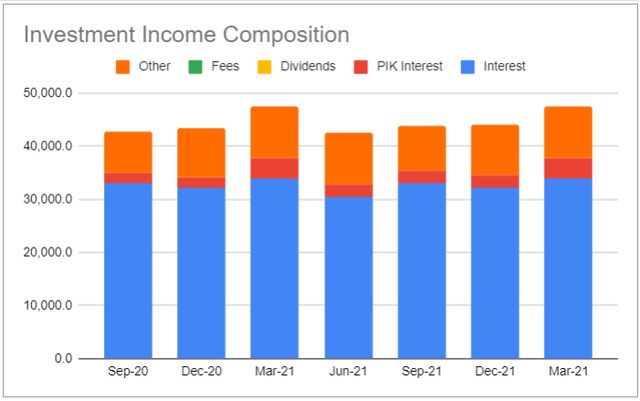 The company left the Q2 dividend unchanged at a $0.32 regular and $0.08 supplemental. It previously raised the supplemental from $0.07 in Q1. The CEO flagged that there may be potential upside in the dividend through the rest of the year. This could be a nod to the likely rise in income due to higher short-term rates so it's not a surprise.
Total dividend coverage from adjusted NII (yellow bars in the chart below) are now a very high 118% and have been north of 100% each of the preceding 6 quarters.
Book value rose by more than 1%. The gain was due to 3 factors: 1) a significant over-earning of the total dividend by 18% ($0.47 adjusted NII vs $0.40 total Q1 dividend), 2) a gain from the SolAero sale above and 3) a small contribution from continuing share buybacks.
Weighted-average quality in the portfolio remained the same and on the stronger side of the last 6 quarters (the lower the number the better the internal portfolio quality rating).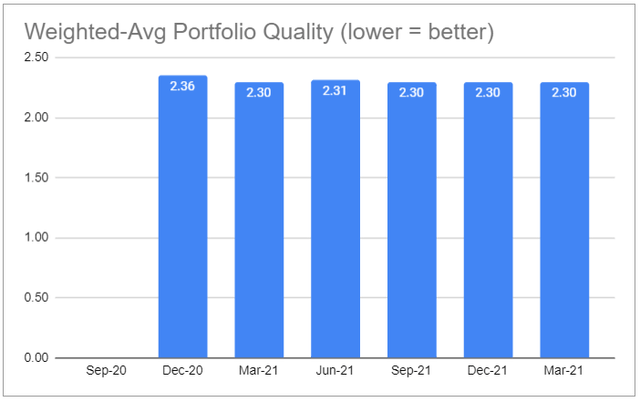 Non-accruals stepped lower as well to 3.7% on a fair-value basis.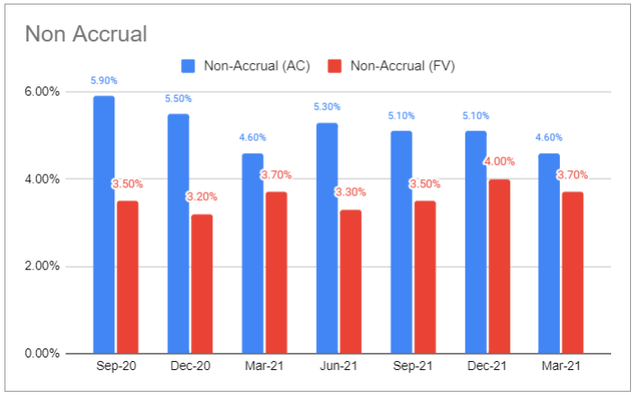 We expect Q2 income to move lower from the very strong Q1 level. However, Q3 numbers should look much stronger. The chart below shows how net income should move based on a rise in Libor of 1% and 2%.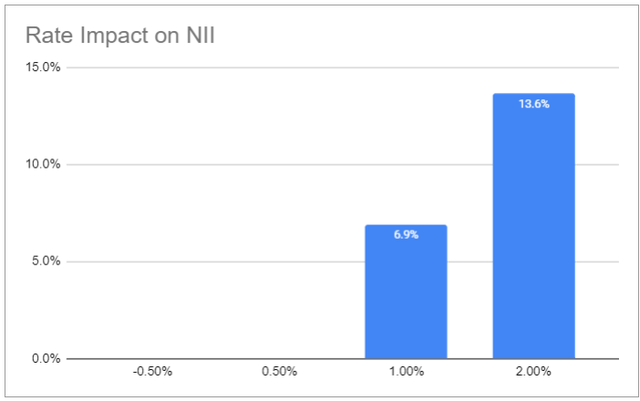 The company has performed very well over the last couple of years in total NAV return terms.
So far in Q1, CGBD has put up the strongest total NAV returns.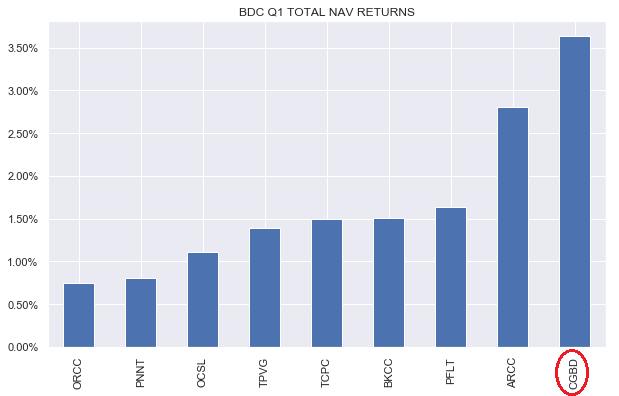 Overall, we wouldn't be surprised to see significantly higher income towards the end of the year as the rise in short-term rates feeds through the portfolio and, particularly, if the company chooses to put some of its dry powder to use.
Thanks for reading.
Check out more in-depth and timely commentary as well as Income Portfolios and interactive Investor Tools at our Premium service.

---
ADS Analytics LLC / Systematic Income provides opinions regarding securities and other related topics on an impersonal basis; therefore no consideration is made towards your individual financial circumstances.
All content presented here is not to be regarded as investment advice or constitute a client / advisor relationship. It is for general informational purpose only.
Trading securities involves risk, so you must always use your own best judgment when trading securities. You assume the entire cost and risk of any trading you choose to undertake. You are completely responsible for making any investment decisions.