In this post we highlight the Credit Suisse Asset Management Income Fund (CIK) trading at an 8% discount and a 9.7% current yield. CIK has been the best or nearly best-performing fund in the sector across different time periods.
In our view, this is the case for three reasons: 1) its unusually low fee structure which gives it a performance advantage versus other funds even before it gets out of bed, 2) its, what we call, cross-credit mandate that allows it to pursue a wider range of opportunities across a broader credit asset population such as bonds, loans, ABS and more, and 3) its clear and consistent profile of alpha generation.
CIK is a primarily high-yield corporate bond fund. About 2/3 of the portfolio is in corporate bonds, another 25% in loans and a smaller allocation in asset-backed securities. About a quarter of the fund is allocated to BB-rated assets and another quarter to CCC-rated assets with the rest primarily in B-rated assets. This allocation profile is somewhat lower-quality (in rating terms) than the average CEF, particularly with respect to the CCC rating bucket.
Historically, the fund has put up very strong returns in the High-Yield corporate bond CEF sector. It has the highest 3Y and 5Y total NAV returns and the second-highest 7Y total NAV return (only losing out to its sister fund).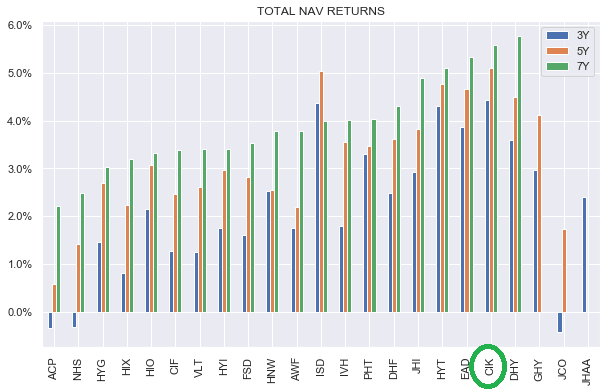 As of this writing CIK is trading at an 8% discount vs. a 7.2% average discount in the High Yield bond CEF sector. Although it has traded at a wider discount historically, the discount has widened significantly over the last few months after trading at a premium for much of 2021.

The recent run-up in interest rates makes longer-duration assets much more attractive than they were over 2021. The widening in credit spreads has also made credit assets worth a look as well. This combination, along with a relatively robust macro picture, makes high-yield corporate bonds decent choices in a diversified income portfolio. CIK is a fund that offers exposure to this sector at an unusual combination of very low fee structure, very strong historic performance and now attractive valuation as well.
Thanks for reading.
Check out more in-depth and timely commentary as well as Income Portfolios and interactive Investor Tools at our Premium service.

---
ADS Analytics LLC / Systematic Income provides opinions regarding securities and other related topics on an impersonal basis; therefore no consideration is made towards your individual financial circumstances.
All content presented here is not to be regarded as investment advice or constitute a client / advisor relationship. It is for general informational purpose only.
Trading securities involves risk, so you must always use your own best judgment when trading securities. You assume the entire cost and risk of any trading you choose to undertake. You are completely responsible for making any investment decisions.