Dynex Capital is a mortgage REIT with a leveraged agency MBS portfolio and, in this, it is similar to a number of other household names such as Annaly or AGNC. However, as we discuss in this blog post it is also different in a number of key and favorable ways.
The first key difference between DX and the rest of the agency mREIT sub-sector (in which we include ARR, NLY, AGNC and IVR) is a more nimble hedging approach by management in unfavorable market environments which has protected book value over Q1 of this year just as it did over Q1 of 2020.
For example, over Q1 of this year the company actually managed to increase its book value while its competitors ARR, AGNC and NLY all had double-digit book value losses. An increase in the book value makes the preferred more resilient as it is now "covered" by more net assets.
Another attractive feature of DX is its lowest leverage profile within the agency mREIT sector – something that DX has largely maintained over time. This is a big benefit for preferreds holders as it makes book value more resilient.
The stock also screens as attractive on a yield-basis in the sector as the following chart shows. Based on current expectations of short-term rates its income is expected to rise and its stripped yield is expected to settle down north of 8% – a nice boost to the current 7.1% level.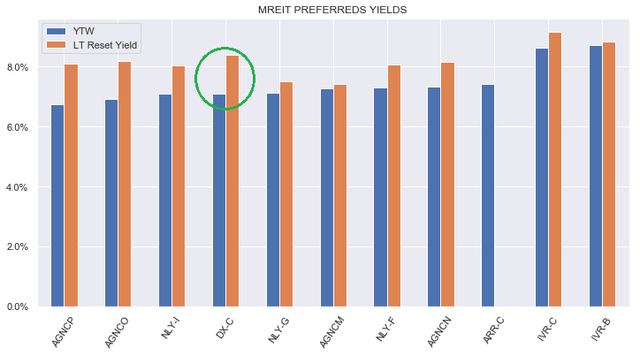 This unusual resilience, a healthy starting yield and additional potential income if/when the stock switches to a floating-rate coupon makes DX-C an attractive hold in our view.
Thanks for reading.
---
Check out more in-depth and timely commentary as well as Income Portfolios and interactive Investor Tools at our Premium service.
---
ADS Analytics LLC / Systematic Income provides opinions regarding securities and other related topics on an impersonal basis; therefore no consideration is made towards your individual financial circumstances.
All content presented here is not to be regarded as investment advice or constitute a client / advisor relationship. It is for general informational purpose only.
Trading securities involves risk, so you must always use your own best judgment when trading securities. You assume the entire cost and risk of any trading you choose to undertake. You are completely responsible for making any investment decisions.