Recent volatility in bonds has not left Business Development Companies unscathed, even the strongest performers in the sector like the Ares Capital Corp (ARCC).
The company's valuation has moved to around 106% (i.e. a 6% premium to book value). While this sounds expensive, it's actually close to the bottom of the valuation range of the past year as the following chart shows.
We like to look at BDC valuation in the context of historic total NAV returns – the chart below is from our BDC Investor Tool. ARCC is marked with a circle and BDCs with a similar historic total NAV CAGR of around 12-16% are marked with a rectangle. What this shows is that ARCC is on the cheaper end of those BDCs that have managed to deliver this kind of return. In other words, most other BDCs with a similar track record trade at more expensive valuations.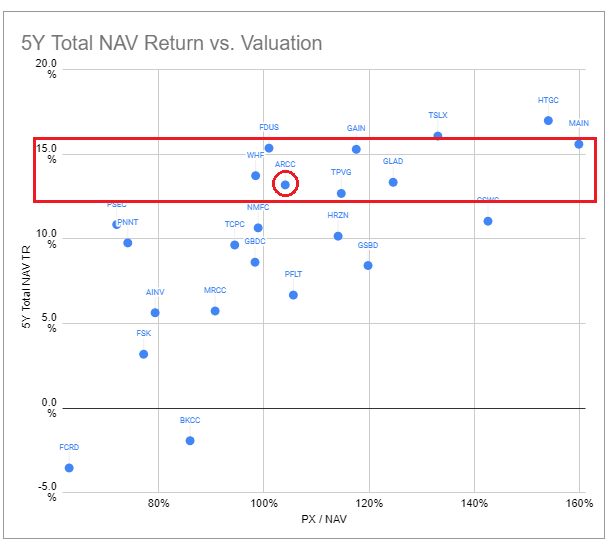 The company recently reported its Q1 results and they were very good.
GAAP net investment income was above 5 of the last 7 quarters. The two quarters that saw higher income levels were both December quarters which benefited from the typical seasonality tailwind.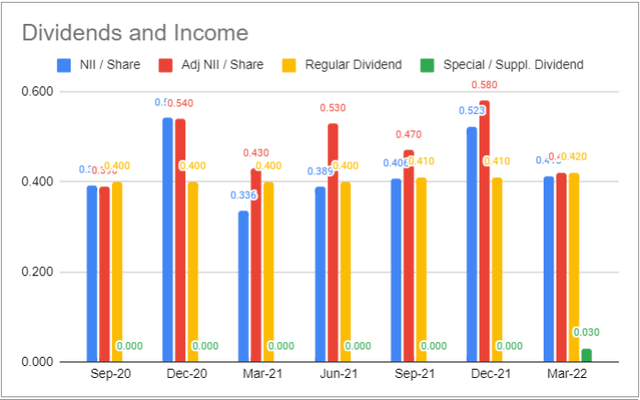 The NAV also increased by 0.4% to a record high of $19.03 from $18.96 as of Q4. This was due to positive net realized and unrealized gains, partly offset by a realized loss related to a repayment of a convertible bond. The rise in the company's NAV, despite weakness in public market credit valuations, was a great result for shareholders.
Arguably the biggest driver of income for ARCC and the rest of the BDC space will be rising short-term rates. At the end of Q1, Libor rose a touch above the weighted-average floor of the ARCC portfolio. The key point here is that investors have not yet benefited from the bump in short-term rates.
Assuming, no credit spreads compression, the company's net income increases by 14% for a rise in Libor to around 2% and increases by 26% for a rise in Libor to around 3%. With Libor around 1.1% net income is already getting an uplift.
Thanks for reading.
---
Check out more in-depth and timely commentary as well as Income Portfolios and interactive Investor Tools at our Premium service.
---
ADS Analytics LLC / Systematic Income provides opinions regarding securities and other related topics on an impersonal basis; therefore no consideration is made towards your individual financial circumstances.
All content presented here is not to be regarded as investment advice or constitute a client / advisor relationship. It is for general informational purpose only.
Trading securities involves risk, so you must always use your own best judgment when trading securities. You assume the entire cost and risk of any trading you choose to undertake. You are completely responsible for making any investment decisions.