Blackstone recently took public their business development company which now trades as Blackstone Secured Lending under the ticker BXSL.
BXSL is now one of the largest BDCs with an $8.2bn investment portfolio. The last time we discussed BXSL it was trading at a 119% valuation (i.e. a 19% premium over book value) and we suggested investors wait for a better entry point which was likely to come soon enough as lock-up dates came up over 2022.
The stock now trades at a much more reasonable 104% valuation and a 9.2% yield and is worth a look for income investors.
The company benefits from being affiliated with one of the largest alternative credit managers with over $700bn under management which comes with a deep network and sector expertise. This larger umbrella allows the company to provide portfolio companies with significant operational support.
The company's distribution coverage remains north of 100% despite the recent rise in the regular dividend. The fee structure is among the best in class and portfolio quality looks very high with no non-accruals over the last couple of years, a low level of PIK income, modest realized and unrealized losses, and the highest allocation to first-lien loans in our coverage universe of 27 names.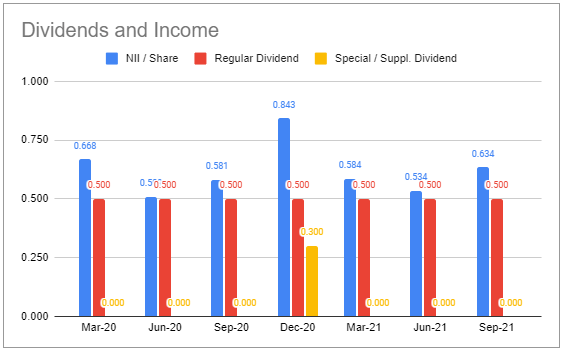 BXSL is relatively well-positioned for higher short-term rates – with an expected 2.1% gain in NII for a 1% rise in rates versus an average of a small drop across the broader sector.
PIK income remains very low, non-accruals are at zero and the proportion of first-lien debt is one of the highest in the BDC space – all good marks of quality.
The company's income is going to get a big boost of around 18% when Libor rises to 2% – it's aleady half way there on its way to 3% based on market consensus and Fed's own expectations.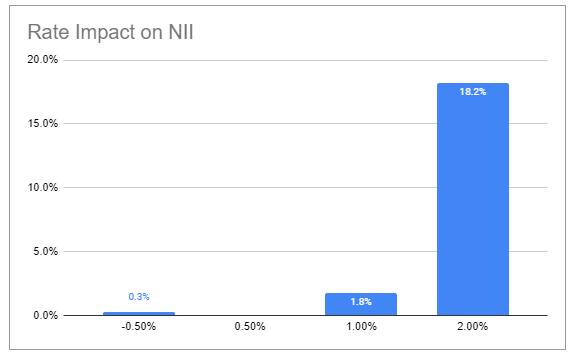 A date we would watch carefully is 1-May when 25% of shares will be unlocked. The stock might see a period of weakness which would serve as a potentially attractive entry point in our view.
Thanks for reading.
---
Check out more in-depth and timely commentary as well as Income Portfolios and interactive Investor Tools at our Premium service.
---
ADS Analytics LLC / Systematic Income provides opinions regarding securities and other related topics on an impersonal basis; therefore no consideration is made towards your individual financial circumstances.
All content presented here is not to be regarded as investment advice or constitute a client / advisor relationship. It is for general informational purpose only.
Trading securities involves risk, so you must always use your own best judgment when trading securities. You assume the entire cost and risk of any trading you choose to undertake. You are completely responsible for making any investment decisions.