We recently added TRIN to our investor BDC Tool and take this opportunity to highlight the company.
TRIN is an internally-managed BDC focused on secured loans (~70%) and, somewhat unusually, equipment financing (23%) to growth-stage companies within the venture capital umbrella. The company has 41 employees and runs a $873m investment portfolio which puts it around the middle of the pack in the sector. The company's equity / warrant allocation is on the high side relative to the sector at 15.7% (although this was a more modest 7.2% at cost). 
Last week TRIN announced an 11% hike in its dividend to $0.40 from $0.36 – a fifth quarterly increase in a row. It also declared a $0.15 supplemental dividend and expects to declare one for each of the remaining 3 quarters this year. This makes the company's dividend yield 11.8% – one of the very highest in the sector and 2.5% above the sector average. 
The hike in the dividend is not much of a surprise. As the chart below shows the company has had a fairly conservative dividend stance with NII exceeding its dividend each of the past 7 quarters, often by a substantial margin.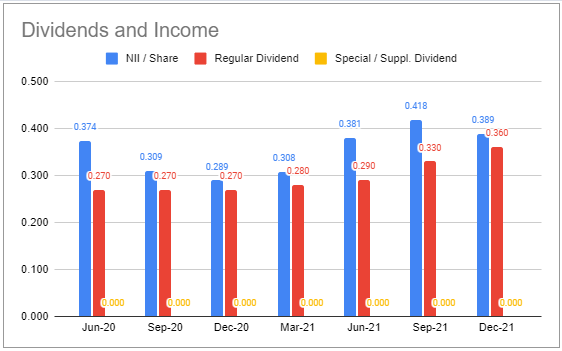 TRIN delivered the strongest quarterly total NAV return in the sector (in our coverage) with a 14% gain primarily due to unrealized appreciation as well as retained earnings causing the NAV to rise by nearly 12%.
It appears that the company has been preparing for a lift-off in short-term rates as its floating-rate asset allocation has been growing and its floating-rate liability profile has been shrinking. In short, TRIN is well-positioned to take advantage of higher short-term rates. It expects to receive a boost of about 7% in NII for a 1% rise in Libor (Libor has already risen by more than half this amount from the December filing) which is about 5% more than the sector average and about 13% for a rise of 2% in Libor – in line with the sector average. 
Overall, TRIN is well-positioned to grow its income over the coming quarters. Its debt interest cost has continued to decrease while its yield on assets has remained steady. Its net new investments and leverage have been growing. Portfolio quality has improve while non-accruals have remained relatively low. Finally, the company has been increasing its floating-rate asset profile and decreasing its floating-rate liabilities, something which has increased the beta of its income to rising short-term rates.
Recent weakness in equity markets and the markdown on a number of exits does highlight the company's heightened vulnerability to equity valuations, however, this is unlikely to cause a significant book value drag unless equity prices fall much more from here.
TRIN remains an attractive higher-beta allocation which patient investors may be able to catch at a more attractive valuation than where it is trading today. At the moment we like the Fidus Investment Corp (FDUS) as a higher-equity allocation BDC in our portfolios which has put up similarly strong total NAV returns as TRIN but trades at a significantly cheaper valuation. We would consider switching to or adding TRIN outright on a valuation move closer to 105%. 
---
Check out more in-depth and timely commentary as well as Income Portfolios and interactive Investor Tools at our Premium service.
---
ADS Analytics LLC / Systematic Income provides opinions regarding securities and other related topics on an impersonal basis; therefore no consideration is made towards your individual financial circumstances.
All content presented here is not to be regarded as investment advice or constitute a client / advisor relationship. It is for general informational purpose only.
Trading securities involves risk, so you must always use your own best judgment when trading securities. You assume the entire cost and risk of any trading you choose to undertake. You are completely responsible for making any investment decisions.