When we first highlighted the Ares Dynamic Credit Fund (ARDC) on our premium service last week it was trading at a 8.6% yield. Since then, its price has risen smartly and its yield fell to 8.15%. However, even with this bounce we continue to find the fund attractive.
ARDC runs around $600m of total assets and is, what we call, a cross-credit fund or a fund that is able to allocate across a wide array of credit securities, specifically, high-yield bonds, loans as well as CLO debt and CLO equity securities. The fund's largest sector tilts are to IT and Energy. 

The advantage of a cross-credit CEF is that it gives managers' a wider landscape in which to pursue attractive opportunities not only from a fundamental but also a relative value perspective.
There are three key recent income dynamics that have an important impact on ARDC income. First, is the recent increase in the fund's borrowings. Secondly, the addition of a mandatory redeemable preferred stock to its credit facility. And thirdly, the likely continued rise in short-term interest rates and its impact on the fund's cashflows on both the asset and liability sides.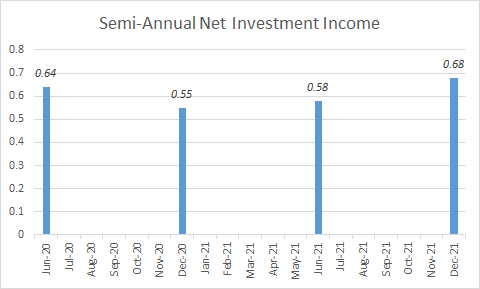 ARDC remains an attractive choice in the credit CEF space. It has outperformed the broader loan sector (as well as the high-yield bond CEF sector) over different periods in total NAV terms as shown below.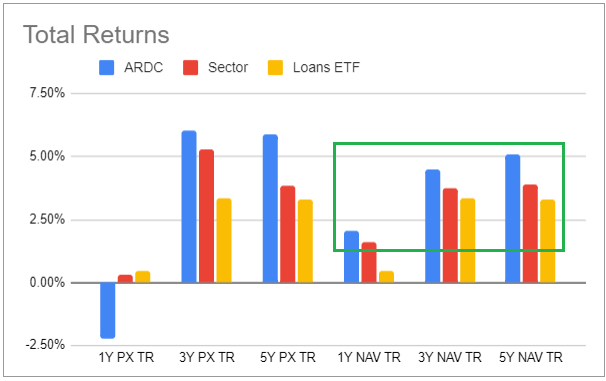 Despite this consistent historic outperformance it continues to trade at a wider discount relative to the sector. The differential between the loan CEF sector and the fund has increased in recent weeks – making it an attractive entry point.

Thanks for reading.
---
Check out more in-depth and timely commentary as well as Income Portfolios and interactive Investor Tools at our Premium service.
---
ADS Analytics LLC / Systematic Income provides opinions regarding securities and other related topics on an impersonal basis; therefore no consideration is made towards your individual financial circumstances.
All content presented here is not to be regarded as investment advice or constitute a client / advisor relationship. It is for general informational purpose only.
Trading securities involves risk, so you must always use your own best judgment when trading securities. You assume the entire cost and risk of any trading you choose to undertake. You are completely responsible for making any investment decisions.