The PIMCO High Income Fund (PHK) has been the top PIMCO fixed-income taxable CEF performer in the suite since the start of November. Which is weird! It's the lowest leveraged fund and yet it's put in the top performance during a period when assets have rallied strongly.
The explanation why is a bit complicated. In my view, it has to do with a combination of things like a greater high-yield bond and EM debt allocation (which have outperformed RMBS) plus a huge swap steepener position.
Add to the fact that the fund's premium valuation is the most attractive on a fair-value basis shown below.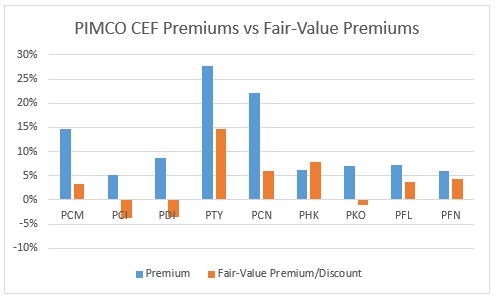 PHK is the only PIMCO CEF we've been holding (shamelessly tooting my own horn, here). The primary reasons have been very low management fees and leverage costs, a defensive position due to low leverage and the curve steepener exposure. We should add the very attractive premium valuation to the list.
Thanks for reading.
Check out the rest of our daily market commentary, as well as our Income Portfolios and interactive Investor Tools at Systematic Income.