The PIMCO Corporate & Income Opportunity Fund (PTY) has a loyal following owing to its not having cut distributions in over a decade.
There is some reason why this is the case – the fund has the lowest management fee and the lowest leverage cost among the PIMCO taxable funds (as we detail in the PIMCO section of our CEF Tool).
The trouble with this is that it's simply not sufficient to allow it to pump out the highest distribution rate on NAV.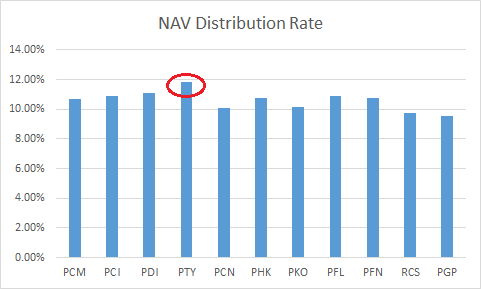 Perhaps this is one reason why the fund has been on fire in terms of adding borrowings with the end result that its stands as the highest leveraged PIMCO taxable fund, only behind the PIMCO Dynamic Credit & Mortgage Income Fund (PCI).
However, even at the high level of income that it is generating – a big chunk of it is given right back due to the fund's ridiculously high premium so that investors end up earning the second lowest yield in the suite.
It is a strange thing to see investors overpay (hold a fund with a 27% premium) for a poor result (the second lowest yield in the suite). Also, ultimately, very high premiums among the PIMCO suite ended up being unsustainable (e.g. PGP, PHK) so it's only a matter of time that investors underperform.
Thanks for reading.
Check out the rest of our daily market commentary, as well as our Income Portfolios and interactive Investor Tools at Systematic Income.