I love to point  our problems with CEFConnect. Don't get me wrong – CEFConnect is a great resource! Being able to quickly pull up historic returns, distribution history or discounts is very useful in a market which is low on transparency. But there are many other ways in which the service is just terrible such as showing correct leverage, UNII, fees, portfolio composition and about a dozen other things. And now and again it just explodes which what seems to have happened on 21-October.
Let me explain. For some reason, CEFConnect decided to simply double up the last distribution of more than 100 CEFs.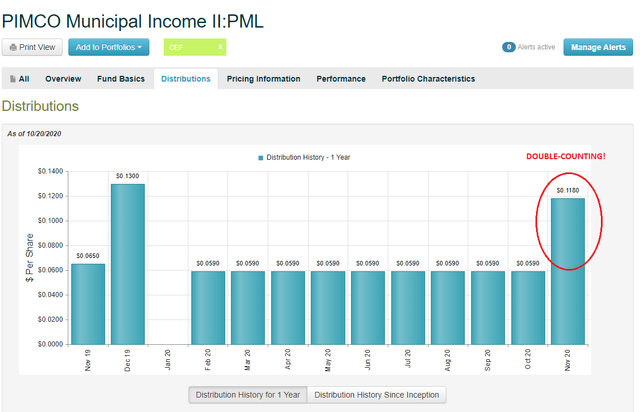 This mistake then fed into the CEFConnect distribution rates, causing them to double as well. Imagine how attractive PML would be at a 10.54% yield, particularly if earned. The reality is that the fund's yield is actually half this.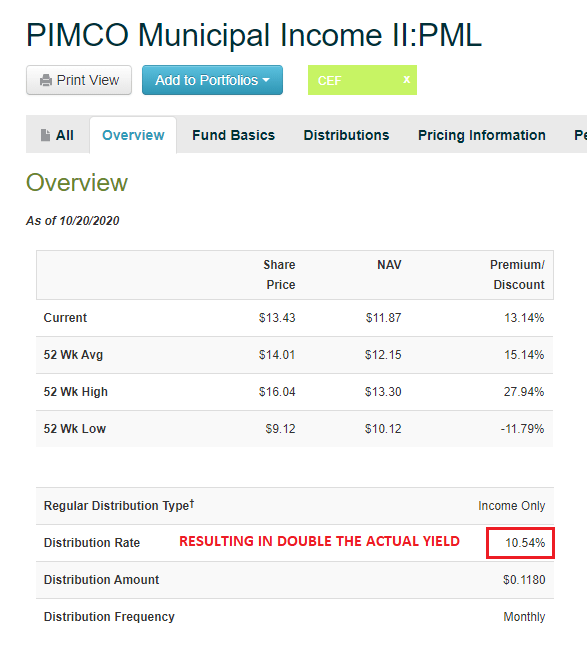 Our own CEF Tool shows correct information for PML as well as the over 130 CEFs which have this issue on CEFConnect.

Unfortunately, I even saw a post on a different forum which showed that someone made a purchase decision based on what they thought was a large distribution raise in one of the funds. Needless to say that decision was erroneous. The issue lasted the entire trading and and appears to have been corrected around midnight. The message here is clear: caveat emptor!